Add Snippet
How to sign up for jobs
Swim Team is only as successful as the families that help run our meets and events, and jobs are crucial to running a swim team. Click on the Jobs drop-down menu for descriptions of Annual Jobs, Meet Jobs, and Social Jobs. Please contact the Jobs Coordinator (LIV.DolphinsJ[email protected]) if interested in any job or for more information.
Each family is required to work either (1) an annual job or (2) a predetermined number of individual meet or social jobs during the season. If your youngest swimmer is 15 years or older, you do not have to perform swim team jobs.
Process to Sign-Up For Meet and Social Jobs
Every LIV family with a swimmer under age 15 and who does not have an annual job will be able to sign up for individual meet/social jobs on May 1, 2023 at 5 PM (tentatively scheduled, subject to change). Jobs are available on a first-come, first-served basis, so you should plan to be logged in and ready to sign up right at 5:00 PM to get the dates and jobs you prefer. The job sign-up window will remain open until DATE TBD at 5 PM. If you do not sign up for all required jobs by the deadline, then jobs will be assigned to you.
You will need to be logged in to your team website account in order to signup ➞ Go to Website Account and Login for how to log in to your team website account.
Once you are logged in, you can sign up for meet jobs and events through your team's meet and event calendar.
Each meet or event will be tagged based on whether they are open, closed, or pending for job and athlete signup. Your team may also have Heat Sheet, Results, and Map files available to download on this page.
You can also download the team schedule to your favorite calendar app, such as Google Calendar, Outlook or iCal.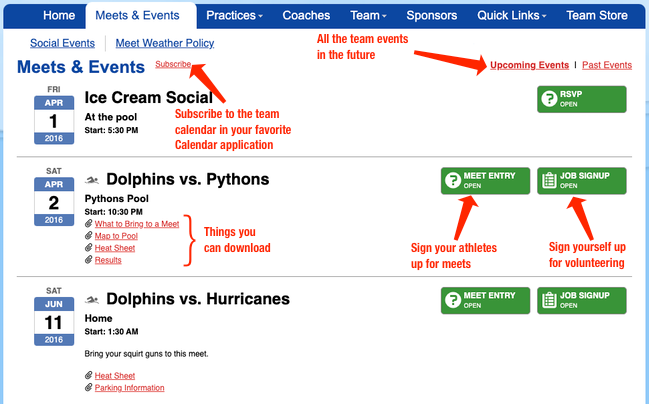 Volunteer Job Sign-up
Click on the green Job Sign-up button to register to work a specific meet or event job.
Your assigned or previously selected jobs will appear for that meet. You can edit these selections by clicking the Sign-up for jobs link.
>>Tips: Roll your mouse over the "i" next to each job name to view a description of that job. Roll your mouse over the numbers in the Filled column to see who has already signed up for that job.
A list of all meet jobs available for sign-up will be displayed with shift times, slots filled, and points (if applicable).
Make your changes by selecting or deselecting the checkbox next to each job, and clicking the Save Assignments button.
Responsibility for Jobs
Once you sign up, those jobs are yours and will not be changed without your consent. Likewise, once you sign up, those jobs are your responsibility to fulfill, no matter what the situation. Note that one adult must be available to work the entire shift of each job assigned to you! Do not sign up for more jobs than you have available adults to work. If you do not have sufficient coverage to watch your small children and work your job at a meet, hire a substitute (see below).
If you cannot work a job, then you must find a replacement on your own (sign in to the website to see list of paid job substitutes under the jobs tab). This list will be updated before time trials. Failure to fulfill your job, including leaving early or arriving late, will result in a $150 assessment per missed job. Failure to pay assessments will result in suspension of your swimmer from meets. Snack Bar substitutes need to be 16 years or older. All other substitutes should be 15 years or older. An adult or job substitute must be available to work during the entire shift of a job.
Jobs for invitationals are assigned separately to families of participating swimmers. 
Text Area
Simple formatted text